Terrence Guolee is a member of the firm's Board of Directors and has successfully represented defendants, plaintiffs, and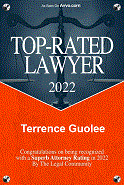 insurance carriers in hundreds of complex, multi-million dollar claims covering a wide area of facts and law, in state and federal courts across the country.
Mr. Guolee's clients include various local, city, county, and state officers, elected officials, and governmental entities; several multi-national product manufacturers; various construction equipment manufacturers, distributors, and contractors; drug and nutraceutical manufacturers; medical and psychiatric health care providers; major electrical utilities and contractors; several insurance companies and various condominium boards, homeowner associations, property owners and managers.
Mr. Guolee's litigation practice includes very complicated civil rights class actions, malpractice claims, and catastrophic injury cases. Mr. Guolee also represents several businesses in defense of statutory consumer rights class action claims and has a long record of successful representation of manufacturers, property owners, utilities, and contractors in wrongful death and other injuries, product liability, construction, and electrocution cases.
Mr. Guolee also represents insurance carriers, claims administrators, and insureds in coverage claims and litigation involving third-party claims administration practices. Mr. Guolee has represented insurers in a variety of complex coverage disputes, including professional liability coverage, errors and omissions, management of a nationwide toxic tort coverage program, catastrophic damage claims, bad faith, liability, and other insurance coverage matters. Mr. Guolee also consults on cases involving attorney fee disputes and fee petition matters.
Prior to joining Querrey & Harrow in 2002, Mr. Guolee was an associate at another law firm for 8 years and an Assistant Director and Counsel to The Hartford Financial Services Group, Inc. for 4 years. In this national claims management position, Mr. Guolee managed this major carrier's claims systems and trained regional claims office management and employees on proper claims handling and review of attorney billing. Mr. Guolee also worked on the drafting of the carrier's case management and attorney billing guidelines, worked on the design of the carrier's electronic billing submission and review systems, served as a liaison to several defense bar groups, and worked with local counsel and legislative lobbying units in representing the carrier and the insurance industry's interests in connection with pending legislation in several states.
Mr. Guolee is the Chairman of the Board for the Skokie Performing Arts Commission, which oversees the operations of the North Shore Center for the Performing Arts, which hosts the Northlight Theater, the Skokie Valley Symphony, and various other arts performances throughout the year.
Mr. Guolee is also a leader of the Midwest I-child/Namaste' Heritage Camp (http://www.mwihc.org), a volunteer group that provides heritage training, counseling, and social events for adoptive parents and their children from India and several other countries. 
Mr. Guolee has also served as an elected member of a local school board, coached and managed several youth soccer teams over the past 10+ years, and serves as a U.S. Soccer Association licensed referee for several competitive leagues all over Chicago's NorthShore. He also regularly writes and speaks on various aspects of the law and litigation practice. 

Editor: Qued In and Construction Law Quarterly, two of Querrey & Harrow's Legal Newsletters.
Education
---
DePaul University College of Law, JD, 1991
University of Wisconsin-Madison, BA, Political Science & Criminology (cert.) 1987
Practice Areas
---
Defense of Civil Rights Claims
Industries
---
Bar and Court Admissions
---
Illinois
US District Court for the Northern District of Illinois
US District Court for the Southern District of Illinois
Federal Trial Bar
Seventh Circuit Court of Appeals
Supreme Court of the United States
Memberships
---
Illinois Association of Defense Trial Counsel (IDC - former Board Member, at Large)
Chicago Bar Association
Illinois State Bar Association
International Municipal Lawyers Association
Representative Matters
---
Managed a very successful civil rights defense program for the Chicago Police Department in several claims of excessive force and false arrest (over 100 cases). Majority of cases completed with defense verdicts at trial or dismissed on defense motions.
Obtained defense verdict for Cook County Sheriff's Office and management in a massive trial following 2006 Jail Escape.
Obtained dismissal of all whistleblower claims raised by employees of the Cook County Juvenile Temporary Detention Center in federal district court action. Claims included allegations of corruption, abuse of overtime, and misappropriation of funding, as well as claims of systematic abuse of detainees over more than a decade-long period. All claims were dismissed with prejudice.
Negotiated a $5.65 Million settlement on behalf of Illinois State Treasurer Alexi Giannoulias in a surety bond claim involving a foreclosed hotel in Springfield, Illinois.
Successfully defended client, a security contractor, in 10 consolidated cases following the collapse of a 100' scaffold from the 42nd floor of the John Hancock Center.
Successfully defended and obtained summary judgment for the Cook County Sheriff's Office as appointed Special Assistant State's Attorney in two wrongful death cases following accidental shootings with deputies' service weapons. Argued and obtained a ruling from Illinois Supreme Court affirming summary judgment order in Adames v. Sheahan et al., Case Nos. 105789 and 105851 cons. (decided March 19, 2009).
Prosecuted birth malpractice case where a $2.55 Million verdict was obtained for the client against a hospital, doctors, and nurses following 9-week trial.
Obtained summary judgment and dismissal of all product liability and negligence claims levied against a steel product manufacturer following the collapse of a suspended work stage at the Chicago "Deep Tunnel" project.
Prosecuted a national insurance carrier's claims against a third-party administrator asserting failure by the administrator to properly handle the carrier's entire book of New York state auto claims over a several-year period.
Obtained dismissal of all product liability and wrongful death claims against an electronic component part manufacturer in a case where a golf cart allegedly started on its own due to a failure in the electronic ignition of the cart, leading to the cart pinning and killing a golfer. The case potentially involved lost wage claims in the $10 million+ range.
Obtained dismissal of civil RICO and class action claims against a municipal sheriff asserting practice of tying promotions to financial support.
Defended a child psychiatrist in a massive case involving alleged improper hospitalization and treatment of a mother and two young children over several years. The case was at the forefront of the national debate about Multiple Personality Disorder (Dissociative Identity Disorder) and repressed memory diagnosis and was prominently covered by several local and national media outlets.
Obtained summary judgment and dismissal of all civil rights class action claims against a municipal sheriff's office asserting a pattern and practice of the use of excessive force on detainees and failure to provide medical care.
Successfully defended a school board against claims arising from a gang killing in a high school.
Obtained summary judgment in favor of a private security company in a case where the company was sued after one of their employee's handguns was used to murder two people.
Successfully defended a school board in a wrongful death claim involving a 4-year-old girl. The case involved claims that the accident was caused by the school's alleged negligence in allowing children to cross a busy street to access the school through a broken area of fencing on school grounds.
Defended municipality in claims following a police shooting of targets in a multi-jurisdictional undercover drug sting, resulting in the filing of federal wrongful death and civil rights claims. The case proceeded against other municipalities with judgments for plaintiffs in excess of a half-million dollars.
Successfully defended a family in a case alleging defamation, false imprisonment, malicious prosecution, and other claims following the prosecution of a minor for alleged sexual abuse of children.
Defended a trucking company in a claim involving the deaths of two workers who were allegedly overcome by toxic fumes remaining in the tanker truck they were cleaning.
Briefed an appeal of a federal lawsuit involving claims of political retaliation against the Mayor of a Chicago suburb through to the United States Supreme Court.
Obtained dismissal of all claims raised against a towing company in a case involving catastrophic injuries to three plaintiffs. One plaintiff was paralyzed, one suffered brain injuries, and the third was killed in the accident that occurred while the client stopped traffic to attend to another vehicle.
Represented a plaintiff in a case where a vehicle was "impaled" by a defective guardrail and the passenger client was knocked through the back window of a minivan. Settled with driver for policy limits and sued corporations involved in the design and construction of the roadway, as well as the local municipality involved in approving the project and overseeing construction.
Successfully defended dozens of general contractors and sub-contractors in litigation involving workplace injuries and deaths.
Obtained summary judgment orders for an electric utility in two consolidated cases involving electrocution death to one contractor employee and severe burning and brain damage to the contractor's apprentice. The case involved a U.S. Department of Labor criminal prosecution of the contractor.
Successfully defended several psychiatrists against claims of malpractice following patient suicides. Also successfully defended cases involving attacks by patients against third parties.


Publications
---
Insurers Denied Intervention - Unable To Contest $20 Million Settlement
There's A Lot of Green To Be Lost Via Default Judgments
Condo Law Update: Condo Owners Cannot Withhold Assessments Even Based on Claims of Failure to Maintain Common Elements or Make Repairs
Targeted Tenders in Illinois - A Sticky Situation
QUED IN - The Smell of Marijuana Does Not Constitute an Exigency
QUED IN - Illinois Supreme Court Lays The Hurt To Insurers In TCPA "Junk Fax" Cases
Class Action Update: Illinois First District Reaffirms Defendants' Rights To "Pick Off" Class Representatives
Litigation Update: Supreme Court Decision Refines Approach to Determining Civil Rights Fee Awards in Mixed Frivolous and Non-Frivolous Claim Cases
Insurance Update: Illinois First District Holds Insurance Code Trumps Contractual Limitations Provision of Policy
School Law Update: Seventh Circuit Decision Finds Due Process Property Right to Recall Procedures Held By Tenured Teachers
Employment Law Update: U.S. Supreme Court Lashes Out At Employers With "Cats Paw" Ruling in Staub v. Proctor Hospital
Seventh Circuit Affirms District Court Decision That "Electronically Printed" Receipts Under FACTA Does Not Include Receipts E-mailed to Consumers
Class Actions Update: Seventh Circuit Holds Plaintiff Cannot Defeat CAFA Removal by Dropping Class Allegations
Class Actions Update: Illinois Second District Appellate Court Decides Private Claims Under TCPA Junk Fax Prevention Act Can Be Brought in Illinois Courts Without Need For Enabling Legislation
Retailer Alert: Do Your E-mails Threaten Financial Destruction?
Illinois Supreme Court Rules Medical Malpractice Damage Caps Are Unconstitutional
Constitutional Law Update: Supreme Court Dismisses Potentially Important Property Rights Case as Moot
Employment Law Update: Depressed Teacher Can Sue School District Seasonal Affective Disorder Accepted As Disability
Federal Litigation Update: Legislation Seeks to Overrule Iqbal Decision
Construction Law Update: Eighth Circuit Overturns Solis Decision OSHA Now Free to Cite Under "Multi-Employer Citation" Doctrine
Litigation Update: Bill Providing for Prejudgment Interest Advances in Illinois Legislature
Insurance & Class Action Update: First Known Insurance Coverage Decision on FACTA Credit Card Actions Released
Liability Update: Illinois Supreme Court Holds Plaintiffs May Recover Medical Bills Subject to Medicare and Medicaid Set-Offs
Business Law Update: Amendment to FACTA Passes
Personal Injury Update: Illinois Supreme Court Rejects Wrongful Death Claims of Aborted Fetus Following Auto Accident
Insurance Law Update: Seventh Circuit Holds Policy's Felony Exclusion Applies, Even Without Felony Conviction
Insurance Update - Illinois Supreme Court Kajima Decision Impacts Additional Insured Coverage
Update: Credit and Debit Card Receipt Clarification Act of 2007 (H.R. 4008) Seeks to Stem Tide of Litigation Under Fair and Accurate Credit Transactions Act
Medical Malpractice Update: Trial Court Holds Illinois Tort Reform Act Unconstitutional. Direct Appeal to Illinois Supreme Court Expected.
Business Alert: Check Your Credit Card Receipts! New Wave of Litigation Under Fair and Accurate Credit Transactions Act
Municipal Liability Update: Government Employees Lose Civil Rights Retaliation Claims For Job Related Speech
Litigation Alert: Illinois Adds Claims For "Grief, Sorrow and Mental Suffering" In Wrongful Death Claims
Litigation Alert: Recent Decision Highlights Important of Properly Drafted Waivers
Court Reaffirms Right To Contractual Indemnity - But Split In Law Requires Consideration
Civil Litigation Alert: Court Holds Settling Parties Should Be Included On Verdict Forms For Damage Apportionment
News
---
Q&H's Guolee Successfully Navigates Client Through Nationwide E.coli Breakout Litigation
Q&H Wins Summary Judgment In Federal Trucking Fraud Case
Q&H Wins Massive Civil Rights Case Following 2006 Jail Escape
Guolee Obtains Dismissal of Construction Management Contractor
Guolee and Schwartz Obtain Dismissal of Medical Imaging Center
Guolee and Schwartz Obtain Dismissal of Consolidated Wrongful Death Auto Claims
Guolee and Callicoat Obtain Summary Judgment For Furniture Installer
Q&H Shareholders Recognized at IDC Annual Meeting
Seventh Circuit Affirms Summary Judgment on Two Title VII Lawsuits
Guolee Defeats FLSA Class Action Claim
Q&H Scores Yet Another Victory for Cook County Sheriff and Illinois Taxpayers
Querrey & Harrow Recovers Millions More for Illinois Taxpayers
Q&H Wins Again Before Illinois Supreme Court
Client Chemical Company Wins Contribution Claim
Querrey & Harrow Scores Three Big Victories For Taxpayers
Q&H Defeats Massive Juvenile Temporary Detention Center Claim
Querrey & Harrow Scores Two Big Victories For Illinois Taxpayers