120 N. LaSalle, Suite 2600, Chicago, Illinois 60602
T: 312.540.7000 / F: 312.540.0578
To contact our attorneys or staff, please access our "Professionals" page
ILLINOIS - INDIANA - WISCONSIN
Our Other Offices:
Merrillville, Indiana - 9215 Broadway, Merrillville, Indiana 46410
Waukegan, Illinois - 208 North West Street 2nd Floor, Waukegan, Illinois 60085
Joliet, Illinois - 350 Houbolt Road Suite 100, Joliet, IL 60431
We're Hiring! Check below and our Available Positions page for details!
Legal Secretary
Looking for a full-time experienced legal assistant to support a busy litigation practice.
Proficiency in Microsoft Office, attention to detail, and good proofreading skills are required.
Competitive Salary and excellent benefits.
Querrey & Harrow, Ltd.
Pls. contact: Wendy Conlon at This email address is being protected from spambots. You need JavaScript enabled to view it.
Based on a foundation of 80+ years of success, Querrey & Harrow provides our clients with the highest level of legal skill when appearing in court or sitting at the negotiating table.
In the case of litigation, Querrey & Harrow attorneys are always prepared to take to trial matters which cannot be settled. However, we appreciate that our clients often desire to resolve matters before they escalate – using resources such as mediation, arbitration, or structured settlements.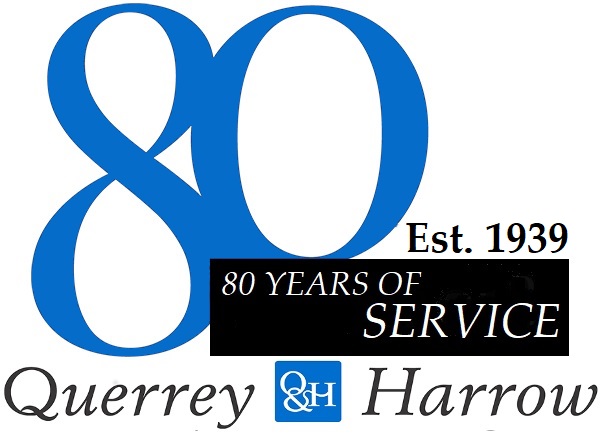 In the case of business or trust and estate transactions, we work with our clients to structure solutions that achieve the desired business or family objective – whether it be expanding into a new market, acquiring a new operating unit, investing in a joint venture, or protection of assets.
No matter how complex or basic a case or transaction may be, Querrey & Harrow clients receive legal counsel delivered skillfully and economically.
We take intense pride in the work we do for our clients and we take it very seriously. However, we also pride ourselves on our collegial and friendly atmosphere. Querrey & Harrow is a professional organization with a down-to-earth feel.