---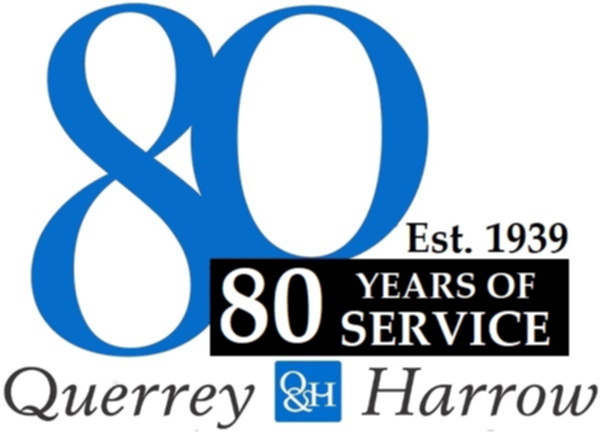 Querrey & Harrow is a multi-service Chicago law firm with satellite offices in the Chicago metropolitan area and Indiana and a geographic service area which extends throughout Illinois, Indiana, and Wisconsin. Our attorneys advise businesses, public entities, and individuals regarding contracts, compliance, employment, and insurance coverage. Our attorneys also represent these entities in litigation matters involving personal injury, wrongful death, health care liability, construction defect, breach of contract, bankruptcy, fraud, and more. Our attorneys regularly practice in state and federal courts, from the Trial Bar to the US Supreme Court, as well as other administrative agencies which govern employment practices in the State of Illinois.
Background
---
In 1939, Joseph Harrow and Corwin Querrey – two Chicago attorneys – merged their law practices. The partnership was different. Joseph Harrow was a charismatic leader, Rhodes Scholar and author of Harrow's Illinois Practice Manual – widely recognized at that time as the preeminent authority for Illinois civil procedure – now known as the Illinois Law Manual, that the firm continues to update to this day. Corwin Querrey possessed extraordinary legal talent and an innate ability to move a matter toward a resolution in the client's best interest. He may have appeared naive to some but was actually shrewd. Together they complemented each others' strengths and created a law firm built on the principle that earning a client's confidence is achieved by first listening and responding to the client's needs and concerns and then delivering a favorable result.
Throughout the next several decades, the firm expanded its practice to include real estate, banking and probate matters to meet the needs of its growing clientele. In 1968, Querrey & Harrow opened its second office in Wheaton, Illinois, and has since established regional offices to serve the Chicago metropolitan area, including Northwest Indiana, in its expanding business and litigation practice. Today, it offers legal services throughout Illinois, Indiana and Wisconsin.
Querrey & Harrow has grown to meet the varied needs of commercial enterprises by combining exemplary personal service with legal acumen. From entrepreneurial start-ups – to established corporations – business owners, managers and legal counsel count on our lawyers to listen to their concerns and then respond with legal solutions that are effective and economical.